View industry events, share knowledge about zero emission buildings
or get in touch to add your own event to our calendar.
ZEBx Decarb Lunch – July 2021
July 22 @ 12:00 pm

-

1:00 pm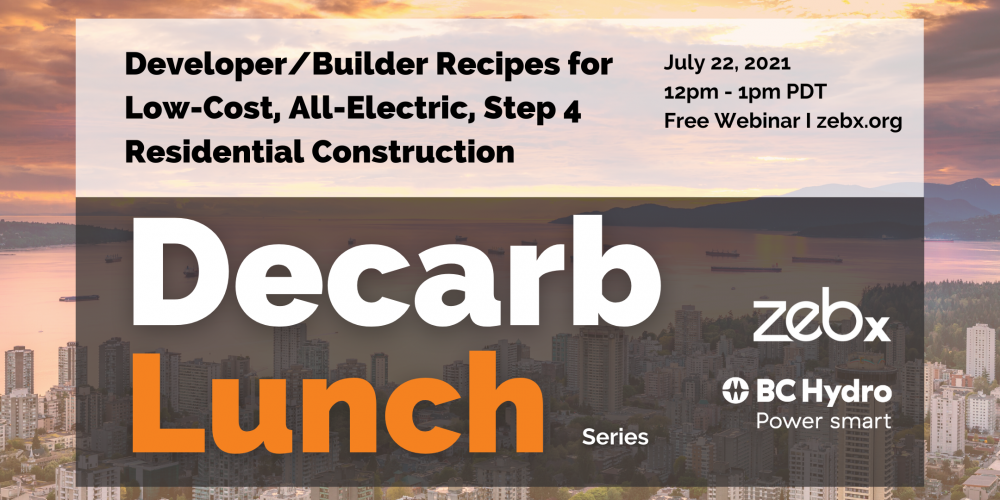 ---
Please note the 'Developer/Builder Recipes for Low-Cost, All-Electric, Step 4 Residential Construction' event will take place on Thu Jul 22, 2021

---
Overview
The monthly ZEBx Decarb Lunch brings together the local building community to discuss emerging solutions and barriers related to zero emission buildings. If you want to be the first to hear about our events and news sign up for the newsletter here. The July 2021 is a collaboration with the Pacific Region UDI.
---
Happening this Month
In our June Decarb Lunch, we presented ZEBx's in-depth analysis of construction costs for high-performance multi-unit residential buildings in BC. Of the seven buildings in the study, two all-electric, Step 4 buildings were constructed for well under the average cost of similar code-minimum residential buildings in the area. Both buildings were constructed by developer/builders: Vidorra Developments and Highstreet Ventures. How did they achieve this impressive result? Was it the fact that they are developer/builders? Do they have some special recipe for constructability or cost-effective high-performance building development?
Join us for our last Decarb Lunch of the summer!
---
Speakers
Rod Nadeau, Innovation Building Group Inc.
Rod Nadeau is one of the managing partners at Innovation Building Group which has been building energy efficient homes since 1988. They have been pursuing cost effective solutions to sustainability for the last two decades and have now turned the Green Premium into the Green Discount using simple building techniques that any Builder in BC can replicate.
Will Monforton B.ASc EIT, Preconstruction Manager, Highstreet Ventures Inc.
Will has been with Highstreet for three years. He fills a utility role with his main focuses being estimating, R&D new building technologies, and managing civil work. He has a civil engineering background and experience as a field engineer working on heavy civil projects.
---
Accessing the Webinar With Your Eventbrite Ticket
Our Decarb Lunch is online.
Once you register on Eventbrite, you will receive an email with a link to the online Zoom webinar.

Click the "View Now" button in the Eventbrite email.

Clicking the View Now button will take you to the Eventbrite Webinar landing page. Click the play button and register yourself for the Zoom webinar by submitting your name and email address.

Once you register, you will be granted access to the Zoom webinar link.

If you have a questions, please contact events@zebx.org.

Some users of MS Explorer may receive error messages – we recommend using a different web browser if this occurs.
---
Professional Development
AIBC Core LUs: 1
BC Housing CPD: 1
---
Join our Community of Leaders!
Do you have an exciting zero emissions or high performance project, product or concept you'd like to share? Interested in participating in our Program Series as subject matter experts? E-mail gordon@zebx.org for more information on how to get involved. Together, we can make the 2020s the decade of zero emission buildings!
---
Privacy Consent for Eventbrite and Zoom
(not applicable if using workplace contact information only)
Please be advised that the personal information you disclose to Eventbrite and Zoom (your name, personal email address, job title, company) is stored on servers located outside of Canada. Storage of your personal information outside Canada means the information resides in a foreign jurisdiction and will be subject to that jurisdiction's laws. Privacy protection afforded by Canada's privacy laws will not apply. You may wish to review the Eventbrite privacy policy before using the service.
The information you provide to ZEBx / SFU via Eventbrite and Zoom is collected under the authority of the Freedom of Information and Protection of Privacy Act (R.S.B.C. 1996, c165) s. 26(c) and the University Act (R.S.B.C. 1996, c 468). It is related directly to and needed by ZEBx and the University to run this event.
By choosing to use this service you consent to the disclosure of your personal information in this manner and for the purposes described above and to its storage outside Canada.
Please be aware, if you are using only your workplace contact information, then none of the information collected in Eventbrite is considered Personal Identifying information (PII), and is not considered a disclosure of personal information.