View industry events, share knowledge about zero emission buildings
or get in touch to add your own event to our calendar.
ZEBx Decarb Lunch – The Peak
March 26 @ 12:00 pm

-

1:00 pm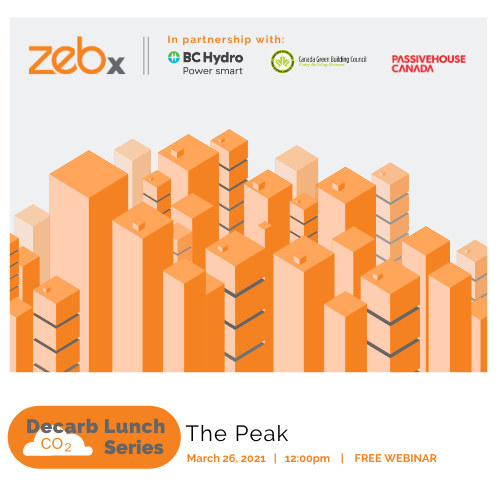 Overview
Taking place on the last Friday of every month, the ZEBx Decarb Lunch brings together industry silos to discuss emerging solutions and barriers related to zero emission buildings. Maximize your lunch hour! Network with subject matter experts and learn from industry leading projects in an intimate and relaxed setting.
The March 2021 Decarb Lunch is a collaboration with Passive House Canada.
---
Happening This Month
The Peak
What's it like to work on your first multi-unit residential Passive House building? Does it get easier on your second? How about your fifth? The Peak is a 6 storey multi-unit residential building under construction in Vancouver that's aiming to meet the Passive House standard.
Not only does the project boast a variety of novel design solutions to meet stringent high-performance requirements, but the team composition also favours a variety of different perspectives. From a seasoned general contractor embarking on their first Passive House project to an architectural firm with more Passive House projects under their belt than any other in BC, both project team members will present valuable lessons learned from their journey together based on their different points of view.
Join ZEBx and Passive House Canada with speakers from Bold Construction and Cornerstone Architects.
---
The March Decarb Lunch is online to help keep our community healthy. We are offering free registration! With many people working remotely, we would like to provide an opportunity for the building community to connect in a safe way, share ideas and stay inspired.
---
Speakers
Jeremy Huerta, M. Eng. PMP – Bold Construction
Jeremy is a PMP certified project manager who received his Masters degree in Civil Engineering and Urban Planning from INSA in Lyon, France and is currently a Project Manager at Bold Construction.
Jeremy recently completed the Passive House design course and has been involved in multiple mid-rise projects with Bold Construction. He is the Project Manager for the Peak Passive House project.
Paul Warwick – Bold Construction
Paul has been working in the local construction business for the past 40 years as a framing carpenter, renovations contractor, general contractor and in the last 30 years as a construction manager where he has developed a passion for building durable and energy efficient projects.
He became acquainted with the Passive House standard on a working tour of Germany in 2009. Since then, Paul has been involved in several successful low-energy high performance projects and in his role as Pre-Construction Manager with Bold Construction is looking forward to the successful completion of the Peak Passive House project.
Scott Kennedy, P Eng. B Arch – Cornerstone Architecture
Scott is a professional engineer as well as a graduate of the UBC School of Architecture. He also has LEED accreditation and has been a principal of Cornerstone Architecture since 1988.
In 2013 he attended a Passive House course at UBC to understand what it takes to create a low energy building that actually performs as predicted. It has inspired him to attend International Passive House Conferences in Europe, the US and Canada and become a founding Board Member of Passive House Canada.
Cornerstone has the "You should consider building a Passive House" conversation with every client and has had some success with three projects built and many more on the way.
Luke Han, Architect AIBC, MArch, BEDS – Cornerstone Architecture
Luke is a registered professional Architect involved in multiple Passive House projects at Cornerstone Architecture, including one that has recently received PH certification from the PHI.
He received a Master of Architecture and Bachelor of Environmental Design Studies from Dalhousie University in Halifax, Nova Scotia. Luke has also taken numerous PH courses, as well as PHPP and designPH courses.
---
Accessing the Webinar With Your Eventbrite Ticket
This month's Decarb Lunch has been moved online as a way to help keep our community healthy.
Once you register on Eventbrite, you will receive an email with a link to the online Zoom webinar.

Click the "View Now" button in the Eventbrite email.

Clicking the View Now button will take you to the Eventbrite Webinar landing page. Click the play button and register yourself for the Zoom webinar by submitting your name and email address.

Once you register, you will be granted access to the Zoom webinar link.

If you have a questions, please contact events@zebx.org.
---
Professional Development
AIBC Core LUs: 1
BC Housing CPD: 1
---
Join our Community of Leaders!
Do you have an exciting zero emissions or high performance project, product or concept you'd like to share? Interested in participating in our Program Series as subject matter experts? E-mail gordon@zebx.org for more information on how to get involved. Together, we can make the 2020s the decade of zero emission buildings!