View industry events, share knowledge about zero emission buildings
or get in touch to add your own event to our calendar.
VRCA: Awards of Excellence, Closing Date for Nominations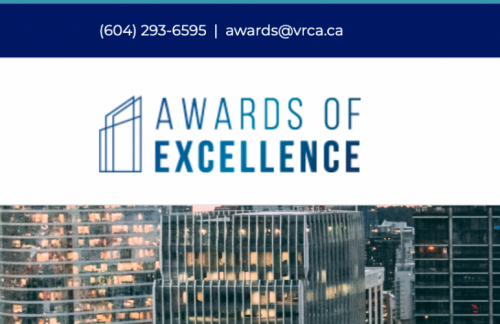 From the website:
Nominations for the 2021 Outstanding Achievement Awards will open on Thursday, May 6, 2021.
Outstanding Achievement Award Categories
---
Construction Workplace Health and Safety Innovation

Innovation & Productivity
Outstanding Woman in Construction

Safety: Superior Safety Record

Safety: Zero Frequency Injury Rate

U40 Excellence in Construction

Zero Emissions Building Leadership
1. Review the Outstanding Achievement Award Conditions to ensure the nominee meets the requirements.
2. Complete the online nomination form.
♦ Nominations open Thursday, May 6, 2021
♦ Register an account
♦ Create your nomination
♦ Upload minimum two (2) reference letters
♦ Submit by July 26, 2021
3. VRCA will review all submissions and use a point-based system to evaluate each nomination.
4. One (1) winner in each category will be announced at the 2021 Awards of Excellence Gala on October 19, 2021.