Past Event: Apr 21, 2021 @ 9:00 am – 10:30 am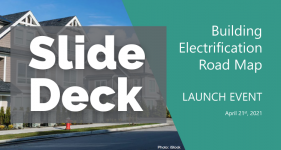 The Building Electrification Road Map was launched at this online event to about 130 participants and stakeholders who had contributed in the Road Map creation. This slide deck is an open resource from this presentation, available to view and share.
---
The objectives of the event which are outlined in the slide deck were to:
• Present the Road Map and key components and outcomes
• Build momentum among key stakeholders for its implementation
• Provide updates of ongoing work linked with Road Map actions/strategies
• Share the timeline for next steps and outline a call to action for ongoing involvement
---
Speakers included Lisa Westerhoff (Integral), Tom Berkhout and Robyn Wark (BC Hydro), Sean Pander (City of Vancouver), Coral Buitenhuis (TSBC), George Benson (VEC), Conor Reynolds (Metro Vancouver) and Roberto Pecora (ZEBx).
Read the Building Electrification Road Map here
Register for the Building Electrification Newsletter here
---